I am the little church of this village. Nobody really knows when I was born, because I am but one of many thousands of old little churches. According to historians, my foundations were laid before the year 1200. At that time, and until the XVIIIth century, the dead were buried in churches. Its is believed that more than 1,000 of them rest in my nave. In 1944, I gave shelter to the bodies of two American airmen who died for the liberation of my country. The village's 200 inhabitants say that I am their treasure. That is why they cherish me so much.
The centuries hang heavy on my vaults and time has deeply wrinkled my walls. This is said to be my biggest asset. I am willing to believe it, but when the wind whispered in my steeple that the villagers had decided to rejuvenate me, I suddenly felt nervous.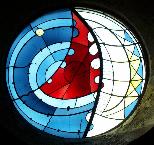 oculus contemporain
I was soon relieved when I learned that they would respect what my builders had designed and achieved.
Time had wreaked havoc on my stained glass windows, but master glass painter Didier Alliou has restored their original brightness. He is the maker of the new oculus that illuminates the nave at sunset.